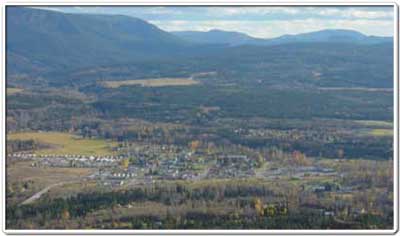 Incorporated in 1957, Houston has a total land area of 72.83 square km which makes it the largest area in the regional district.
The two mills in Houston, Canfor and Houston Forest Products, are the largest employers in Houston. Between the two mills 555 people are employed, as well as a number of contract positions. Combined they have an annual payroll of $45 million. The mills estimate that their contracted activities such as logging, trucking, road construction, and silviculture support an additional 550 jobs in the region.

Houston is located in a region of heavy mineralization. Huckleberry Mines, an open pit copper mining operation, is located 125 km south of Houston. The mine employs 230 people and in January 2012 it was announced that 70 new positions will be created and the life of the mine will be extended to 2021.


Regional District of Bulkley-Nechako Appointed Represntative

Director Shane Brienen - Mayor

Phone: (250) 845-2238
Fax: (250) 845-3429
Email: mayor@houston.ca

District of Houston

Area (square kilometers)
72.94

3367 12th Street
PO Box 370
Houston, B.C. V0J 1Z0
Phone: (250) 845-2238
Fax: (250) 845-3429
Email: doh@houston.ca
Website: District of Houston


Average House Value 2011
$122,140
Municipal taxes (annual rate) 2011
$2,288
Census Population StatsCan 2016
3,147
Total Private Dwellings 2016
1,402
| | |
| --- | --- |
| RDBN Electoral Area | Local First Nations |
| | |