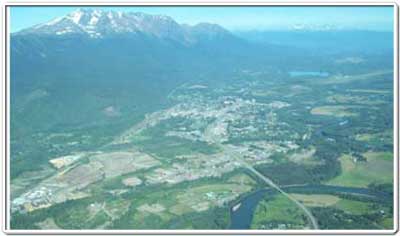 Incorporated as a village in 1921 and then as a town in 1967 the Town of Smithers is situated half way between the cities of Prince Rupert and Prince George along the Yellowhead Highway.
Smithers is a town of 5400 people and is a regional service center for the Bulkley Valley. Because of this, Smithers offers many more amenities than you would normally see in a town of this size. From its position in the Bulkley Valley, Smithers is set against the backdrop of the Hudson Bay Mountain to the west and the Babine Mountain range to the east.
The main industries include forestry, agriculture, tourism and mining. Smithers is also known as the Gateway to the north. The town has a regional airport as well as a train station where VIA rail stops on the way to Prince Rupert.

Regional District of Bulkley-Nechako Appointed Representative
Mayor Glayds Atrill

Phone: (250) 847-1600
Fax: (250) 847-1601
Email: mayor@smithers.ca
Town of Smithers

Area (square kilometers)

15.27

1027 Aldous Street
PO Box 879
Smithers, B.C V0J 2N0
Phone: (250) 847-1600
Fax: (250) 847-1601
Email: general@smithers.ca
Website: Town of Smithers


Average House Value 2016

$229,729

Municipal taxes (annual rate) 2011

$2,749

5,401

Total Private Dwellings 2016

2,389
| | |
| --- | --- |
| RDBN Electoral Area | Local First Nations |
| | Wet'suwet'en First Nation |