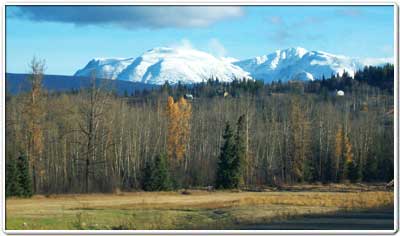 Electoral Area A (Smithers Rural) is the rural area surrounding the Town of Smithers and the Village of Telkwa. The unincorporated communities within the area are Evelyn and Quick.
The area offers residents and visitors a unique mix of open green spaces, mature forestlands and scenic vistas.
Expansive farm land exists throughout the rolling hills north and east of Smithers, as well as south to Telkwa. The area is renowned for its world-class steelhead fishing and there are several fishing lodges located on nearby rivers. Mineral exploration and mining are important economic drivers. The forestry sector continues to be the major industry with Pacific Inland Resources and Northern Engineered Wood Products being the major employers.


Regional District of Bulkley-Nechako
Elected Representative

Director Mark Fisher

Phone: (250) 877-8434
Email: mark.fisher@rdbn.bc.ca
Local Services Provided by the RDBN in Electoral Area A (Smithers Rural)
Building Inspection
Liquid/Solid Waste Disposal
Building Numbering
Museum
Development Services
Smithers Para-Transit
Economic Development
Telkwa Pedestrian Crosswalk
Electoral Area Planning
Pump and Haul Sewer Disposal
Emergency Preparedness and Services
Recreation and Culture
Grants-in-Aid
BV Regional Pool and Recreation Centre
Environmental Services
Rural Fire Protection
Library
Television Rebroadcasting
Weed Control
Glacier Gulch Water Diversion
General Government Services
Lake Kathlyn Aquatic Weed Harvesting
9-1-1
Feasibility Studies
Rural Government Services
Planning and Zoning
Electoral Area A (Smithers Rural)

Regional District of Bulkley Nechako

Area (square kilometers)

3,677

37 3rd Ave / PO Box 820
Burns Lake, BC V0J1E0
Phone: 250-692-3195
Toll Free: 1-800-320-3339
Fax: 250-692-3305
www.rdbn.bc.ca

Census Population StatsCan 2016

5,256

Total Private Dwellings 2016

2,213
| | |
| --- | --- |
| Local Municipalities | Local First Nations |
| | Wet'suwet'en First Nation |
Electoral Area A (Smithers Rural) Boundaries

Western Boundary (Hwy 16):

Almost 2 km east of Telkwa High Road junction
Almost 2 km west of River Road junction

Eastern Boundary (Hwy 16):

Top of Hungry Hill
About 0.5 km west of Summit Lake Road
Just over 2 km east of Hungry Hill Way

Eastern Boundary (Walcott-Quick Road/Morice
Telkwa Forest Service Road):

About 1.6 km east of Walcott Station Road