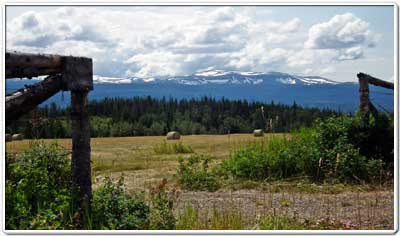 Electoral Area E (Francois/Ootsa Lake Rural) is the rural area south of the Village of Burns Lake. The unincorporated communities within the area are Francois Lake, Noralee, Grassy Plains, Ootsa Lake, Southbank, Danskin, Wisteria, and Takysie Lake.
Electoral Area E is unique in that there is no municipality within its borders. The forestry, agriculture and tourism sectors are the major industries in the area. The Francois Lake Forester, owned and operated by Waterbridge Equipment Ltd., is a free ferry that is the connector for the southside of Francois Lake. Capable of transporting up to eight loaded logging trucks, the Forester is a key infrastructure component in Electoral Area E. The north shore community of Francois Lake is an agricultural community with acres of hay land and several cattle ranches.
Huckleberry Mines is an open pit copper/molybdenum mine located in Electoral Area E. On January 2, 2012 the Main Zone Optimization Expansion Project got the go ahead. The expansion will create more employment opportunities in all areas of the Mine's operations over the next ten years. Huckleberry Mines presently employs 300 people.

Regional District of Bulkley-Nechako
Elected Representative

Director Clint Lambert

Phone: (250) 694-3811
Email: clint.lambert@rdbn.bc.ca

Local Services Provided by the RDBN in Electoral Area E (Francois/Ootsa Lake Rural)
Feasibility Studies
Liquid/Solid Waste Disposal
Building Numbering
Museum
Development Services
Baker Airport
Economic Development
Burns Lake Arena
Electoral Area Planning
Pump and Haul Sewer Disposal
Emergency Preparedness
Burns Lake Public Library
Grants-in-Aid
Burns Lake Museum
Environmental Services
Rural Fire Protection
Library
Television Rebroadcasting
Weed Control
Rural Government Services
General Government Services
Emergency Services
9-1-1
Emergency Response
Electoral Area E (Francois/Ootsa Lake Rural)

Regional District of Bulkley Nechako

Area (square kilometers)
15,897

37 3rd Ave / PO Box 820
Burns Lake, BC V0J1E0
Phone: 250-692-3195
Toll Free: 1-800-320-3339
Fax: 250-692-3305
www.rdbn.bc.ca

Census Population StatsCan

2016

1,593
Total Private Dwellings 2016
840
Local Municipalities

Local First Nations




Cheslatta Carrier Nation
Nee Tahi Buhn Band
Skin Tyee Nation
Electoral Area E (Francois/Ootsa Lake Rural) Boundaries

Northern Boundary (Hwy 16):

Near the top of Hopper's Hill
About 1 km south of Gilgan Road
About 1 km north of Bald Hill Road

Northeastern Boundary (Hwy 16):

Near the top of Priestly Hill
At the junction of the Tercer Forest Service Road

Northeastern Boundary (Hwy 16):

Near the top of Priestly Hill
At the junction of the Tercer Forest Service Road

Eastern Boundary (Hwy 16):

About 3.2 km east of Butler Road
About 9 km west of Coray Subdivision

Eastern Boundary (Francois Lake Road):

About 250 metres east of Ruby Road
Includes Birch Bay Resort

Western Boundary (Morice-Owen Forest Service Road)

At the end of Owen Lake
About 5.5 km north of Owen Lake Road