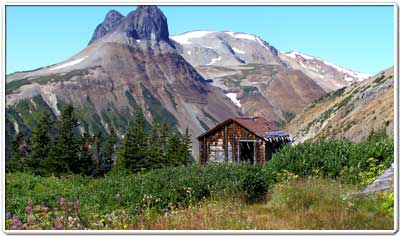 Electoral Area G (Houston Rural) is the rural area surrounding the District of Houston and the Village of Granisle. The unincorporated communities within the area are Fort Babine, Kuldo, Smithers Landing, Topley, and Topley Landing.
The area around the town of Houston is fast becoming a hiker's paradise. Many kilometers of trails at all skill levels are built and maintained yearly. These trails are giving the tourism sector a boost and creating many opportunities for business.
The Forestry and Mining sectors continue to be the major industries in Area G. Houston Forest Products, Huckleberry Mine and several mineral exploration companies operate in the area. Huckleberry Mines is an open pit copper/molybdenum mine located very close to the Electoral Area G border.. On January 2, 2012 the Main Zone Optimization Expansion Project got the go ahead. The expansion will create more employment opportunities in all areas of the Mine's operations over the next ten years. Huckleberry Mines presently employs 300 people.
Regional District of Bulkley-Nechako
Elected Representative

Director: Chris Newell

Phone: (250) 845-3564

Email: chris.newell@rdbn.bc.ca
Local Services Provided by the RDBN in Electoral Area G (Houston Rural)
Building Inspection
Liquid/Solid Waste Disposal
Building Numbering
Rural Government Services
Development Services
Recreation and Culture
Economic Development
Emergency Services
Electoral Area Planning
Television Rebroadcasting
Emergency Preparedness
Topley Cemetery
Grants-in-Aid
Topley Emergency Response
Environmental Services
Rural Fire Protection
Weed Control
General Government Services
9-1-1
Planning and Zoning
Feasibility Studies
Electoral Area G (Houston Rural)

Regional District of Bulkley Nechako
Area (square kilometers)
14,446

37 3rd Ave / PO Box 820
Burns Lake, BC V0J1E0
Phone: 250-692-3195
Toll Free: 1-800-320-3339
Fax: 250-692-3305
www.rdbn.bc.ca

Census Population StatsCan

2016

903
Total Private Dwellings 2016
450
| | |
| --- | --- |
| Local Municipalities | Local First Nations |
| | Lake Babine Nation |
Electoral Area G (Houston Rural) Boundaries

Western Boundary (Hwy 16):

Top of Hungry Hill
About 0.5 km west of Summit Lake Road
Just over 2 km east of Hungry Hill Way

Western Boundary (Walcott-Quick Road/Morice Telkwa Forest Service Road):

About 1.6 km east of Walcott Station Road

Eastern Boundary (Hwy 16):

About 3.8 km east of Topley
Just west of Montgomery Road

Southern Boundary (Morice-Owen Forest Service Road):

At the end of Owen Lake
About 5.5 km north of Owen Lake Road