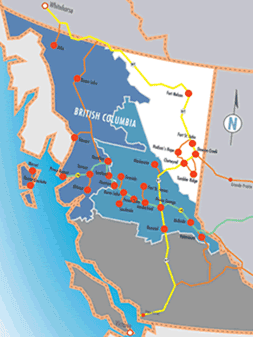 The Regional District of Bulkley-Nechako includes the Stuart-Nechako Regional Hospital District and the Northwest Regional Hospital District. The boundaries are shown on the attached map.
Regional Hospital Districts do not own or operate any hospitals, health centres or medical clinics of any kind. Their purpose is to provide a portion (up to 40% of capital expenditures) of the funds required by hospitals within their boundaries for equipment, renovations and new construction. This funding is raised through property taxes. Regional Hospital Districts provide funding to the facilities operated by the Northern Health Authority.
Directors of the Regional District are automatically on the Board of the corresponding Regional Hospital District. Those Directors not on Stuart-Nechako Regional Hospital District are on the North West Regional Hospital District (which also includes the Directors from the North West (Skeena-Queen Charlotte) and Kitimat-Stikine Regional Districts). Voting on Regional Hospital Districts is similar to Regional Districts with some matters (for instance budgets) being weighted based on population.