Click the banner below for information on how to register for alerts!
Emergency Support Services
Emergency Support Services (ESS) is provided by trained volunteers who dedicate their time to assist residents who are displaced from their homes by emergencies or disasters.
This service provides basic needs immediately after being displaced by an emergency or disaster or during an evacuation order. ESS provides the following services:
food;
clothing;
shelter; and
incidentals.
ESS is provided through the dedication of ESS Volunteers. See below for information on how you can join your local ESS team. For more information on what ESS provides, click on the brochures below:
Bulkley Nechako Emergency Support Services (ESS)
The Regional District of Bulkley-Nechako (RDBN) strives towards building programs and effective partnerships with emergency management stakeholders to better support our residents who need assistance during emergency events and disasters. In order to ensure our ESS teams have the capacity to serve all of our communities during difficult times, the RDBN has partnered with member municipalities in our region to build the Regional Emergency Support Services (RESS) program, Bulkley Nechako ESS. This program has increased the response capacity of the region's eight ESS teams with more than 50 volunteers located across our diverse region.
Bulkley Nechako ESS Teams: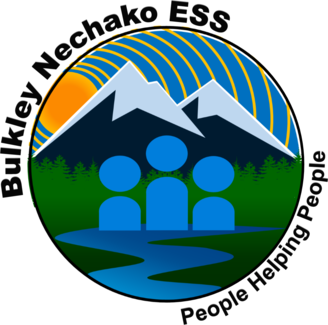 Become an ESS Volunteer!
Would you like to be part of a dedicated team of volunteers who help people in your community during an emergency? We need your help!
Commitment
Until activated by an emergency, being a part of your local ESS team is a relatively low commitment. Each team is managed by a local Emergency Support Services Director (ESSD). ESS volunteers make the following commitments:
attend ESS training provided by your local government and the Province of BC;
attend monthly meetings;
be available to respond to emergency events when possible; and
participate in occasional volunteer appreciation, recruitment, and public education events.
Steps to Becoming an ESS Volunteer
To begin taking the steps below to become registered as an ESS volunteer, contact your closest municipality to connect with your community's ESS Director and receive an orientation package.
For more information about ESS and becoming a volunteer with Bulkley Nechako Emergency Support Services, contact the Regional District of Bulkley-Nechako at protective.services@rdbn.bc.ca or call 1-800-320-3339.